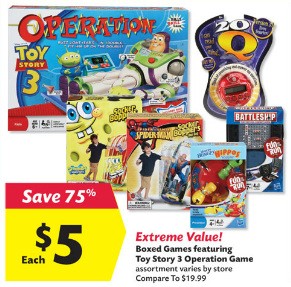 If you have a Big Lots store in your area, you can grab some cheap board games with a price match! Through 9/24/11, they have Toy Story 3 Operation and Battleship on sale for $5. Price match at Walmart or Target, and get them for $1 each after coupon!
This list has expired. See my coupon matchups page for current lists.
I would suggest printing out the price match policies for both stores, just in case any issues arise.
Thanks, Totally Target!