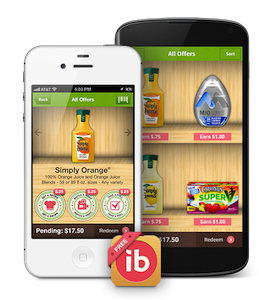 I just realized that I never posted about my personal favorite new app called Ibotta! This app is now available for iPhone and Android, and it allows you to earn cash back when you purchase products at select retailers, including Walgreens, Target, CVS, Walmart, and more.
Compatible Stores
Red text indicates a new store has been added.
7-Eleven

Military Commissary

WinCo Foods

CVS Pharmacy
Rite Aid
Target
City Market
Dillons
Dominicks
Fred Meyer
Fry's
Giant Eagle
HEB
King Soopers
Kroger
Meijer
Pavilions
Pick 'N Save
Publix
Ralphs
Safeway
ShopRite
Smith's
Stop & Shop
Tom Thumb
Vons
Walmart
Walgreens
Duane Reade
Food4Less
Harris Teeter
Hy-Vee
QFC
Randall's
How Does Ibotta Work?
To get started with Ibotta, you'll need to sign up for an account and then download the free app for iPhone, iPod, iPad, or Android.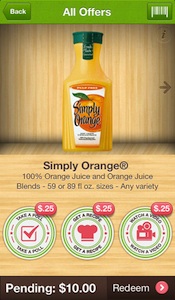 Once that's done, launch the app and browse through the offers available to you. You can earn cash back by taking polls, answering questions, watching videos, posting to Facebook, etc. Then, you'll need to go to one of 24 participating retailers and purchase the product. Not all offers are available at all stores, however.
To check and see if you are purchasing the correct product, tap on the offer, and then tap on the barcode icon in the upper right hand corner. Scan the barcode on the product. If it matches, it's the correct product and will work for the Ibotta offer. You can also view the fine print of the offer by tapping on the small "i" below the barcode icon.
Once you've made your purchases, upload the receipt via the Ibotta app. You will need to make sure the whole receipt appears before you upload; otherwise, you may not get your credit. They will verify your purchases and add any credits within 24 hours. In many instances, you will receive your money much faster.
There is no limit on the number of offers that can be redeemed. Once you redeem an offer, a new offer will be put in its place. The more offers you redeem, the more new offers you'll see (and the more money you'll earn)!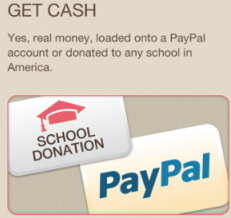 How Do I Get My Money?
Once you've reached $5 in earnings, you can transfer your earnings to your PayPal account. Just choose Withdraw Cash, then link Ibotta to your PayPal account. You can then transfer from PayPal to your bank account.
You can also donate to any school in America as soon as you've earned as little as $1. What a great way to pay it forward!
What If I Use Coupons?
You will still get your cash if you use coupons!
How Do I Refresh Offers?
Ibotta frequently adds new offers. To refresh your offers screen, tap Sort, then Refresh Offers.
How Long Do I Have to Submit Receipts?
Receipts must be submitted within two weeks of the printed receipt date.
Didn't Get Credit?
If you didn't receive credit for your purchase, go to the My Receipts section of the app, tap on the receipt in question, and then Report a Problem. Explain the issue to the customer service representative, and they will review your claim.