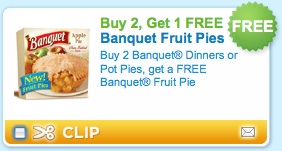 Coupons.com recently released even more new coupons:
Buy 2 Banquet Dinners or Pot Pies, get a FREE Banquet Fruit Pie
Use zip code 80201 to access this coupon.

Save $1 on any one Genesis Today 64oz Superfruit Juice
Use zip code 90210 if you don't see the coupon.

Save $0.50 on one 4 pack of Dark Chocolate Superfruit pudding
New Organix Pet Coupons:
Use zip code 75204 if you don't see the coupons.
Buy 3 get 1 FREE Organix or Natural Ultramix 3oz or 5.5oz Cat Food Cans at PETCO (up to a $1.99)
$4 off Organix or Natural Ultramix 3 lb bag of Cat Food at PETCO
2 New Windex Coupons:
Save $1 on any Windex product
Save $2.50 on Windex Outdoor All-In-One Glass Cleaning Tool

$1/1 Edwards Singles a la Mode
Scroll down and click on 'Get Special Savings'.

Cottonelle Coupons:
$0.50 off any one Cottonelle Toilet Paper (4 pack or larger)
$0.50 off two tubs or refills or one 72 count or 84 count refill of Cottonelle Fresh or Cottonelle SoothingClean Flushable Moist Wipes

Save $2 on any L'Oreal Healthy Look Creme Gloss Color
Login or register, then click on My Loreal in the upper right hand corner and finally click on special offers.
Various Claritin Coupons

Various HomeSolutions Coupons
Thanks, Hip2Save!