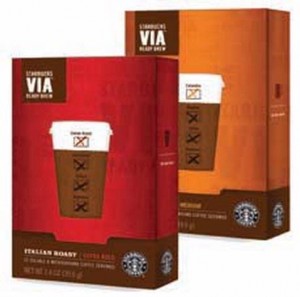 Even More New Coupons:
$1/1 Starbucks VIA Ready Brew
New May Pillsbury coupons
Sign up and then click on the coupon banner located in bottom right hand corner.
Two Beech Nut Coupons
(These are SmartSource coupons and will print immediately after clicking the links below)
$0.75 off ANY Beech Nut product
$0.75 off Beech Nut Let's Grow! Tummy Trays
$1 off one package of any Land O'Frost DeliShaved
The coupon link is in upper right hand corner.
$0.55 off any one Hillshire Farm Chicken Hardwood Smoked Sausage (only)
$0.55 off one package of Hillshire Farm Links
$1 to $3 off any Keri Product
It looks like printing in Firefox results in a $1/1 coupon and printing in IE results in a $3/1 coupon!
Thanks, Hip2Save!