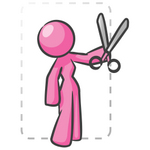 Coupons.com currently has a very high value Hill's Prescription Diet Multicare cat food coupon available! Just go here, use zip code 90210 and click on the 'Pet Care' category on the left hand side. You should then see the Hill's prescription coupon. Click on it and fill in your info to print a $7/1 coupon!
You may also want to print the $1/1 Pedigree Dentastix coupon on Coupons.com. The Pedigree Dentastix Treats for Dogs (4 count) are priced from $1.50 to $2 at various stores, so as low as $0.50 after the $1/1 coupon!
Other New Coupons
$1/1 Lean Cuisine Market Creations Steam Bag
$1/1 Cutter Insect Repellent (no size exclusions)
'Like' Cutter on Facebook and click on the 'Coupon' tab.
$1.25/1 any Great Day Breakfast Product
'Like' Great Day Foods on Facebook and click on the 'Offers' tab.
$4 off any combination of 3 packages of President Fat Free Feta, Sorrento Fat Free Ricotta, Sorrento Low Fat Ricotta, Precious Fat Free Ricotta, or Precious Low Fat Ricotta
A UPC from one of the products listed is required to print the coupon.
$2 off any one Crayola Beginnings Product AND one Johnson's Baby Bubble Bath or Shampoo
$1 off any two packages of Dixie or Dixie Ultra Paper Plates
$1 off one half gallon of 8th Continent Soy Milk
$1 off 2 packages of any Bar-S Bologna
$4/10 Weight Watchers Smart Ones products
Coffee-Mate Coupons Reset
Save $1 when you buy any three Coffee-Mate liquid or powder creamer
Save $0.75 when you buy any one Coffee-Mate liquid or powder creamer
$1 off any one Wonka Fruit Marvels or Wonka Fruit Jellies
Thanks, Hip2Save!