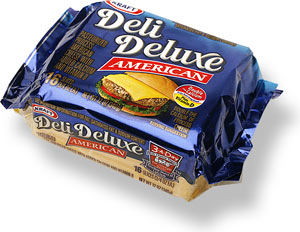 Printable Coupon Round-Up:
$1 off any one package of Kraft Deli Deluxe Cheese (8oz or larger)
$1 off any two bags of Food Should Taste Good (5oz or larger)
This is a PDF coupon and expires on 6/15/10.

$1 off any Biore Skincare Product
Fill out the form to access this coupon.

$0.55 off any BetterOats Oatmeal (Excludes Mom's Best Naturals Varieties)
Lance Cracker coupons (reset?)
$1 off one any variety 8 count Lance Homepack Sandwich Crackers 10 oz or larger
$1 off any one variety 6oz Lance 100 Calorie Pack Mini Sandwich Crackers

Two New Dove Coupons:
$1.25/1 Dove Body Wash
$1.50/1 Dove Deodorant/Mist
$1/2 Boston Market Frozen Products

Two New All You exclusive coupons:
$2 off any Rimmel Item
$1 off any New York Color Cosmetics Item ($1.72 or higher)

$1 off any two Newman's Own Products
$1 off any two Lean Cuisine Entrees, any variety
$2 off one Energizer Recharge Battery or Charger Package
$2 off one Energizer Ultimate Lithium or Energizer Advanced Lithium Battery Package
$1.50/1 Keebler Wheatables or Nut Crisps
Coupon link in the center of the page.
Save $1 on 2 Packages of any Oscar Mayer Lunchmeats
Save $1 on 2 packages of any Oscar Mayer Hot Dogs
Wyeth Consumer Healthcare Coupons:
You will need to fill out a short survey to access these coupons:
$1/1 Advil
$2/1 Advil PM
$1/1 Children's Advil
$2/1 Advil Cold & Sinus
$1/1 Alavert
$1/1 Anbesol
$1/1 Caltrate
$3 off both Centrum and Centrum Kids
$1/1 Centrum or Centrum Kids
$3/1 Centrum Cardio or Centrum Performance
$2/1 Centrum Silver 150 count +
$5/2 Centrum Ultra/Silver Ultra Men's or Women's
$2/1 Centrum Ultra/Silver Ultra Men's or Women's
$2/1 Dimetapp Childrens
$1/1 FiberCon
$2/1 PreparationH
$2/1 Primatene tablets
$2/1 Robitussin To Go
$1/1 Robitussin product
$1/1 Thermacare Heat Wraps
Thanks, Hip2Save!