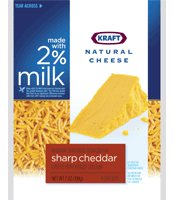 The $1/2 Kraft cheese coupon has once again reset for me on Coupons.com! Hopefully it's reset for you too! Also, there are some new Coupons.com coupons available:
Save $1 on any two Litehouse Products
Save $5 on any K-Y Brand INTENSE (or) any YOURS + MINE product
Save $0.55 when you buy any one box Fiber One Toaster Pastries
Save $0.75/1 Wheaties Fuel cereal
Other New Coupons:

High Value Prevacid 24HR Coupon
$6 off any 14 or 28 count box of Prevacid 24HR
$10 off any 42 count box of Prevacid 24 HR
$0.50 off any One Minute Rice Ready to Serve Rice
Click on coupons on the upper-right side of the page. The coupon is listed on page 2.
**There are also various other healthy product coupons.
Save $0.55 on any Pilgrim's Pride, Country Pride, or Gold Kist Product
You'll need to register to print this coupon.
New Coffee-Mate Coupons:
$0.75 off one 15oz or larger package of Coffee-mate liquid or powder (any variety)
Buy one get one FREE any Coffee-mate Stick Pack variety

Save $1 on one Package of Purina Friskies Party Mix Cat Treats: IE or Firefox
You can get these FREE or almost FREE at Walmart or Target!
Campbell's Chunky Soup Coupons
Progresso Soup and General Mills Cereal
Save $1/3 Progresso Soup
Save $1/2 General Mills Big G Cereals
New All You exclusive Coupons:
$1/1 Stacy's Simply Naked Pita Chips
$1/1 Sister Schubert's Homemade Rolls
And more!

$1 off any Combination of 4 Dole All Natural Fruit Jars or Dole Fruit Bowls (New Link)
This is a SmartSource coupon and will print immediately after clicking the link.
Thanks, Hip2Save!