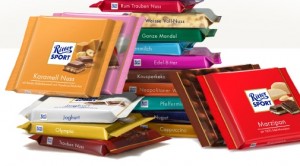 Ritter Sport Chocolate released a new high value coupon! Go to their Facebook page and become a fan to download a Buy One Ritter Sport's Chocolate Varieties, get one FREE coupon! This is a PDF coupon and expires 8/31/2010. You can go here to find out where Ritter Sport's Chocolates are sold.
Other New Coupons:
$2 off any one package of Energizer Ultimate Lithium Brand batteries
Scroll down and you'll see the coupon link under 'FREE Downloads' in the center of the page.
$1 off any one multipack of YoBaby Yogurt or YoBaby Drinkable Yogurt
Login or register to access this coupon.
Save $1/1 Lightlife Veggie Entree
$1/1 Perdue Perfect Portions Chicken
$1 off any one Queen Helene product
$1 off any Lever 2000 Bar Soap (4 bar pack or larger)
This coupon reset, so you should be able to print it again!
Buy One Classico White Pasta Sauce, Get One Classico Red Pasta Sauce FREE
I highly suggest printing this coupon immediately! I'm guessing it will reach its print limit quite quickly!
Save $1 on any Smart Chicken product
Save $0.75 when you buy any Sargento Reduced Sodium Cheese
Save $1 when you buy any 2 bags of Olde Hearth Bagels
Save $8 When You Purchase My Friends Tigger & Pooh Super Duper Super Sleuths DVD Plus One Other My Friends Tigger And Pooh DVD
Save $6 When You Purchase Handy Manny Big Race DVD Plus One Other Handy Manny DVD
Thanks, Hip2Save!