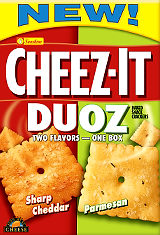 There is a new $1/1 Kellogg's Special K Crackers coupon and a $0.75/1 Cheez-It Duoz coupon available on Red Plum! If you don't see the coupons, try using zip code 53027. These often go on sale for just $1.99 per box, so only $0.99 after the coupon!
Other New Coupons:
Save $1.50/1 Right Guard Total Defense 5 Deodorant
"Like" Right Guard on Facebook and click on the "Coupons" tab to print this.
$2 off any Bic Soleil Bella Shaver 3-pack

$1 off any Good Earth Tea (New link)
Click on "Save on Good Earth Tea" in the bottom center of the page to print this coupon.

$0.55 off any Fisher Product (4 oz +)
Take the Nut Personality Quiz to access the coupon.

Mambo Sprouts Spring 2010 Coupon Booklet
You can either pick this up in Whole Foods or request one using the link above.

$1.25/1 RingO's Chicken Rings
Use zip code 75204.

$0.55/1 lb. of Otis Spunkmeyer Cookie Dough
Use zip code 75204.
Save $1/1 Total Cereal
This coupon is located in the bottom left corner.

Save $1/2 Welch's refrigerated juices

$1/1 Marie Callenders Asian Recipes
Scroll down and click on "Sign up for Special Savings". This coupon will be mailed to you.
Thanks, Hip2Save!