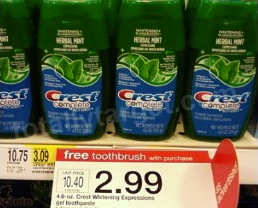 This week at Target, as advertised in the weekly ad, you'll get a FREE Oral-B toothbrush when you buy any Crest toothpaste priced $2.99 or more. The Crest Complete is included in this deal, and if you got the high value $2/1 coupon, it will be FREE!
Buy Crest Complete Toothpaste (4.8 oz), $2.99
Buy Oral-B Complete Toothbrush, FREE with Crest purchase
(2) $2/1 Crest Complete Toothpaste, Scope Dual Blast Rinse, Oral-B Complete Floss, or Oral-B Complete Toothbrush (exp 12/31/11) 9/11/2011 SmartSource Insert
Final cost: both FREE, or $0.99 for both if your store only allows one coupon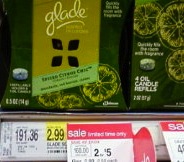 The Glade candle holders are also included in this week's sale for $2.50 each. There are some higher value coupons, and the buy three get one FREE fall collection promo is still running! Get these for $0.50 each with the deal below:
Buy 5 Glade Scented Oil Glass Candle Holders, $2.50 each
Total: $12.50
Minus buy three get one FREE sale: $10
(5) $1/1 Glade Scented Oil Candles Holder or Refills 8/21/2011 SS Insert (exp 9/24/2011) OR
(5) $1/1 Glade Scented Oil Candle Holder
(1) $2.50/5 Glade Fall Collection Air Care Target Coupon (exp 10/8/2011)
Final cost: $0.50 each
Thanks, Totally Target!