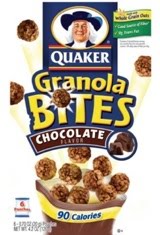 More Target Deals:
Quaker Granola Bites (small bags by the registers) $1
Use the $0.50/1 Target coupon
Final cost = $0.50!
**NO Beeps!
Febreze Fabric Refresher small 2.8 oz bottles on clearance for just $1.64 (regularly priced at $2)
(these can be found in the checkout lanes, in the travel/trial size section, and possibly on an endcap in the cleaning supply section)
Use the $1/1 coupon from the 9/27 P&G
Final cost = $0.64
The Fragrance Collection By Glade 3 Wick Soy Candles $4.49
Use the $3.50/1 coupon here
Final cost  = $0.99!
**Purchase 3 and submit for the $5 SC Johnson rebate to make money on this deal!