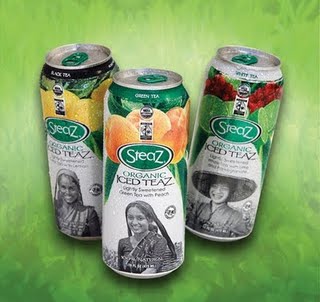 While you are out Black Friday shopping, make sure to stop by Target and grab a few FREE drinks! You should be able to get 5 FREE drinks from the deals below:
First, Target has a new sweepstakes to play, the Target 2-day Sale Giftacular game. Through 11/26, enter daily for a chance to win $10,000 + lots of other great prices! Even if you don't win, you'll score a FREE soda coupon, valid only on Black Friday and Saturday, the 28th. If you would prefer not to play the game, click here for the coupon.
Also, Coupons.com has a buy one get one FREE Steaz Organic Teaz coupon available. Use zip code 90210 if you don't see the coupon. Plus, you can combine this with the FREE coupon to get a great deal.
Deal Scenario:
Buy 4 Steaz Organic Teaz
Use 2 buy one get one FREE coupons from here
Plus, use two FREE coupons from here
Final price: 4 for FREE
*If the cashier won't allow you to use an additional coupon with the buy one get one FREE coupons, then purchase six for the price of two!
Thanks, It's Hip to Save!