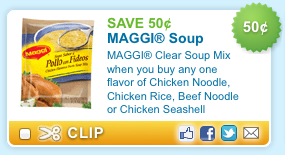 There's a new $0.50/1 Maggi Soup printable coupon available on Coupons.com! Use zip code 12345 and click on the Foods category to find the coupon quickly. You can get these FREE + overage at Walmart:
Maggi Soups, $0.44
$0.50/1 Maggi Soup
Final cost: FREE + 6¢ overage!
Thanks Common Sense with Money!