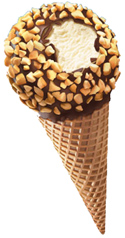 In celebration of the first day of summer tomorrow, Nestle is giving away 100,000 FREE Drumsticks certificates on their Facebook page! Be ready at 12pm EST…these will go fast!
Join over 1,500 people and 'Like' the Frugal Finders Facebook page. You'll find great conversations with other deal seeking readers, and I sometimes post time sensitive deals there.
Thanks, Bargain Briana!