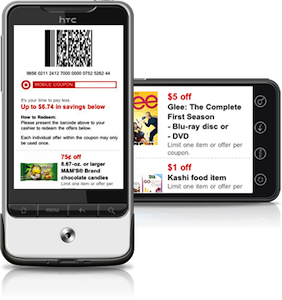 This morning, I received 11 new Target mobile coupons, valid through 7/6/12. Remember, these are Target store coupons, so you can stack them with manufacturer's coupons for additional savings.
15% Off Solera Summer Seasonal Tabletop Item
20% Off Jewelry or Accessory Item, excludes Intimates and Shoes
$3/1 Mossimo Apparel (excludes Intimates, Jewelry, Accessories, and Shoes)
$1/10 Digital Prints 4×6 inch (Target Photo Lab only)
$1/2 Market Pantry Hamburger or Hot Dog Buns 8 ct
$1/2 Market Pantry Cheese Items 5 oz+
$1/1 Lindt Lindor Vanilla Truffle Candy 6 oz
$0.50/1 Zzzquil Sleep Aid Item 12 or 24 oz liquid or 24 or 48 ct liquicaps
$2/3 Greeting Cards, excludes cards under $1
$2/1 L'Oreal Lip Gloss or Lipstick
$1/1 Cleaning Item: Scrubbing Bubbles or Windex or Pledge
If you didn't get your text message yet, text OFFERS to 827438. If you aren't signed up to receive Target mobile coupons, go here to register. You'll need to have an Internet capable phone to retrieve the coupons. Standard text messaging and data rates apply.