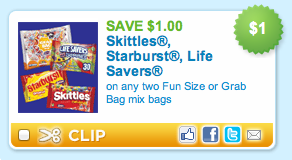 We're starting to approach Halloween, and that means we should start seeing lots of candy sales! Actually, there is an ECB deal running at CVS this week. Use this $1/2 Skittles, Starburst or Life Savers Fun Size or Grab Bag Mix Bags printable coupon to save even more!
If you don't see this coupon under your zip code, try searching without one.
Thanks, Moms Need to Know!