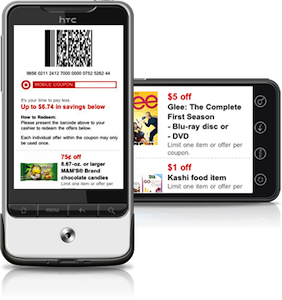 This morning, I received 13 new Target mobile coupons, valid through 4/27/12. Remember, these are Target store coupons, so you can stack them with manufacturer's coupons for additional savings.
$1/1 Mrs. Meyer's Laundry Care or Cleaning or Dish Soap Item
$1/1 Tom's of Maine Women's Antiperspirant Powder Deodorant (2.25 oz)
$1/2 Dasani Plantbottle Items (12 oz 8 pack)
$2/1 Brita Water Filter System or Multipack Filter excl Brita Bottle
$0.75/1 Annie's Organic Fruit Snack 4 oz or Granola Bar 6.9 oz
$0.50/1 Seventh Generation Cleaning Item
$1/1 Method Household Cleaning or Personal Care Item
$1/1 Green Works Laundry Care or Cleaning or Dish Soap Item
$1/1 Gud from Burt's Bees Body Care Item
$1/1 Neutrogena Naturals Item
$1/2 Garnier Fructis Pure Clean Hair Care Items
$2/1 Yes To Body Care Item ($7 or higher)
$2/1 GE Compact Flourescent Light Bulb Item or 2 pack
If you didn't get your text message yet, text OFFERS to 827438. If you aren't signed up to receive Target mobile coupons, go here to register. You'll need to have an Internet capable phone to retrieve the coupons. Standard text messaging and data rates apply.