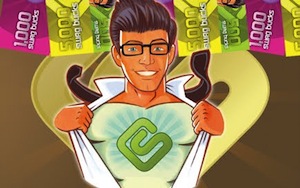 Have you signed up for Swagbucks yet? Swagbucks is an online search engine that pays you in Swag Bucks when you search and do various other activities on the site. Your Swagbucks can be redeemed for gift cards, gifts, and much more.
Right now is a perfect time to register for an account! Through 10/12, you can get an additional 100 Swagbucks when you sign up. That's on top of the 30 Swagbucks new members automatically receive.
To get your bonus Swagbucks, just enter code SAVVY2012 during the registration process. You'll be 1/3 of the way to redeem for a $5 Amazon gift card already!
Don't forget to change your default search engine in your Web browser to Swagbucks! This will allow you to rack up those Swag Bucks much more quickly. 🙂