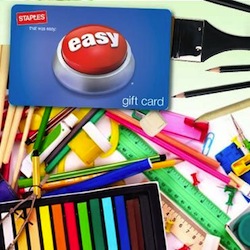 If you haven't purchased from Saveology before, you can get a great deal that's great for back to school shopping! Grab a $15 Staples gift card for just $7.50.
The gift card can only be used in-stores. Combine the gift card with their great back to school sales and Easy Rebate, and you can surely save lots of money!
Limit 1 per household. Staples Gift Card will be mailed to the address provided once the redemption voucher is completed and processed. Offer cannot be redeemed until 24 hours after voucher is received. Voucher must be redeemed within 60 days from date of purchase.