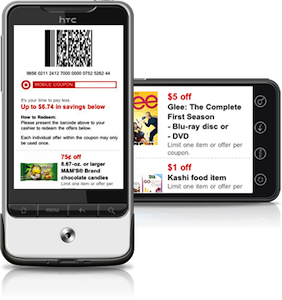 Right now, you can get 9 new Target mobile coupons, valid through 11/3/12. Just text the word HEALTH to 827438 to get these coupons. Remember, these are Target store coupons, so you can stack them with manufacturer's coupons for additional savings.
$0.50/1 Vicks Nature Fusion Cough and Cold Relief Item
$0.50/1 Pepto-Bismol Digestive Relief Item
$1/1 Nature Made Vitamins or Dietary Supplement
$1/1 Tylenol Cold Multi-Sympton Liquid (8 oz) or Tablets (24 ct.)
$0.50/1 ZzzQuil Sleep Aid: Liquid (12 or 24 oz) or Caplets (24 or 48 ct.)
$4/1 Abreva Cold Sore Treatment (0.7 oz)
$1/1 Mucinex FastMax, DM, or SE Cold Relief Item
$1/3 Halls Cough Drops (30 or 40 ct.)
$1.50/1 Vicks DayQuil or NyQuil Cough and Cold Relief Item
You can get an additional 10 Target mobile coupons for Up & Up products by texting the word up&up to 827438. These are valid through 9/29/12.
$0.50/1 Up & Up Double Roll Bath Tissue 12- or 24-pack
$0.50/1 Up & Up Food Storage Item
$1/2 Up & Up Disposable Tabletop Items
$0.50/1 Up & Up Nail Care Item ETS
$0.50/1 Up & Up Shaving Gel or Cream ETS
$1/1 Up & Up Sun Care Item ETS
$0.75/1 Up & Up Dryer Sheets 105 ct+ or Fabric Softener ETS
$1/1 Up & Up Laundry Detergent ETS
$1/1 Up & Up Baby Formula 23.2 oz+
$1/1 Up & Up Boxed Diapers ETS
You'll need to have an Internet capable phone to retrieve the coupons. Standard text messaging and data rates apply.