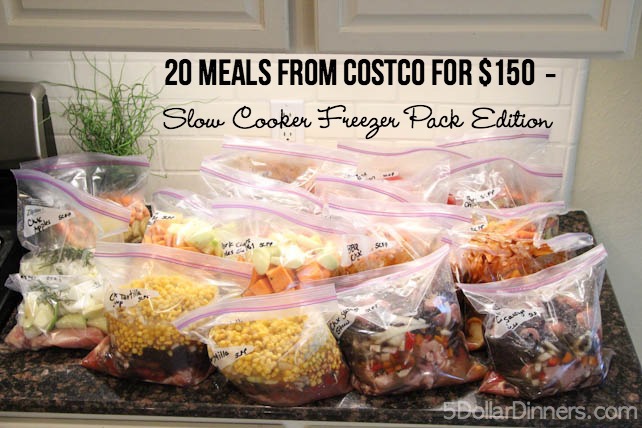 My friend Erin from $5 Dinners made another amazing meal plan! With this meal plan, you can make 20 gluten free slow cooker freezer packs for your family!
There are 10 different family friendly recipes you can use to make 20 slow cooker freezer packs in under 2 hours. Each pack will feed a family of four, and you'll still have plenty of leftovers.
The best part? You can pick up everything from Costco for around $150! That makes each meal about $7.50. For a family of four, that's a great price and will help you save a ton of money!
Recipes Included:
Slow Cooker Chicken with Apples & Rosemary
Slow Cooker Pork Chops with Apples & Sweet Potatoes
Slow Cooker Sweet Potato Chicken Curry
Slow Cooker Italian Chicken
Slow Cooker BBQ Chicken & Potatoes
Slow Cooker Sausage, Peppers, Onions
Slow Cooker Italian Stew Roast
Slow Cooker Beef Stew
Slow Cooker Chicken Tortilla Soup
Slow Cooker Chicken & Sausage Stew
There are two options available to purchase:
Package #1:
10 Full Recipes Plus Grocery Shopping List – $2.49
Package #2:
10 Full Recipes Plus Grocery Shopping List, Printable Assembly Instructions, Printable Assembly Cards, Printable Labels, and Access to 3 Instructional Assembly Videos – $5
Just think, if you buy this, you'll have your meal planning done for an entire month! And you'll have paid as little as $1.49!