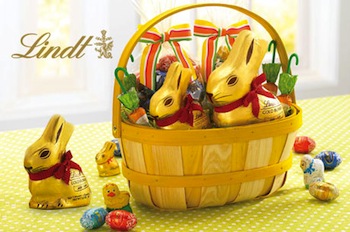 Here's a yummy deal just in time for Easter! Eversave is currently offering $20 worth of Lindt Easter chocolates, truffles and more for just $10. This Save can be used towards shipping costs too!
You can save on famous chocolate bunnies, eggs, Easter gift baskets and more seasonal sweets! Plus, for every Lindt Gold Bunny sold, Lindt donates a portion of the proceeds to Autism Speaks.
May buy up to 5 Saves. Save is valid sitewide at Lindt USA. Valid for online purchases only. Shipping rates start at $7.34; code can be used toward shipping. Promotional value expires on Dec 31, 2012.