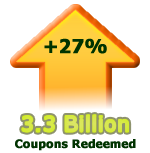 The numbers are out for the entire year of 2009 and coupon use!
Coupon Trends
Coupon use rose 27% with $3.5 billion in redeemed coupons! This was the first annual increase in redemption since 1992. Companies saw this increased redemption and they stepped up to the plate with more coupons. Brands issued 367 billion coupons with an average value of $1.44 ($528.5 billion total). This was the highest number of issued coupons ever recorded.
Manufacturer Coupon Changes
Manufacturers did alter the offers they released to help compensate for the increase of coupons. The face value of coupons decreased by 1 penny on average and expiration dates were shortened by 10% over previous years.
The Future of Couponing
The economic downtown in the last 18 months has drastically changed the way that people look at shopping. Many wonder if we all start using coupons, will they stop releasing them? I think this past year is proof that the companies are not looking at ending this system but instead are putting more of their resources into it!
For me it is great to see so many using coupons, but at the same time, look at all the coupons that were not used. We redeemed $3.5 billion, but they issued $528.5 billion. That's only 0.7%!
Thanks, Coupon Info Now!