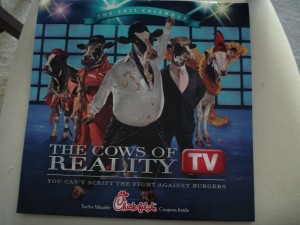 Chick-Fil-A is now offering their 2011 calendar, filled with over $30 worth of coupons, for only $6 + tax. The coupons available in the 2011 calendar will make for lots of FREE food!
Coupons inside:
January: FREE Chick-Fil-A Spicy Chicken Biscuit or Small Bowl of Chicken Soup
February: FREE Yogurt Parfait and Dasani Bottled Water
March: FREE Large Diet Coke
April: FREE Chick-Fil-A Nuggets (8 count)
May: FREE Chargrilled Chicken Garden Salad
June: FREE Small Hand-Spun Milkshake
July: FREE Medium Freshly Squeezed Chick-Fil-A Lemonade
August: FREE Large Sprite
September: FREE Spicy Chicken Sandwich
October: FREE Large Coca-Cola
November: FREE Chick-n-Minis (3 count) OR Large Waffle Potato Fries
December: FREE Large Coca-Cola Zero
Thanks, Hip2Save!