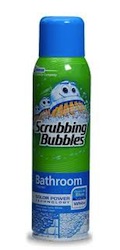 [email protected] released a new cleaning coupon tonight! You can print a high value $2/1 Scrubbing Bubbles Bathroom Cleaner with Color Power Technology coupon right now.
Target also has a $1/1 Scrubbing Bubbles Color Power Cleaning Item store coupon. You can stack these two coupons to get a total of $3 off this product. That should make for a pretty good deal!
Check out the rest of the Target deals you can score this week.
Thanks Totally Target!