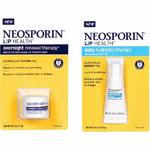 Neosporin believes that unhealthy skin can prevent people from enjoying their lives, and that they need real solutions that address the root causes of unhealthy skin. For this reason, they've approached lip care in a completely different way.
They went beyond understanding how to temporarily relieve dry lips. They took time to study exactly what makes them dry – and to discover what "essentials" must be restored to make and keep lips looking healthy. The result is uniquely formulated Neosporin Lip Health day and night formulas. Both are clinically proven to give you visibly healthier lips in just 3 days.
Sign of unhealthy lips
* Dehydration: Feel dry and tight
* Rough Texture: Rough and scale easily
* Diminished Tone: Natural hue appears faded
Signs of healthy lips
* Hydration: Feel moisturized and supple
* Even Texture: Feel soft and smooth
* Healthy Tone: Natural hue
Get your $3 off coupon and discover healthy lips.