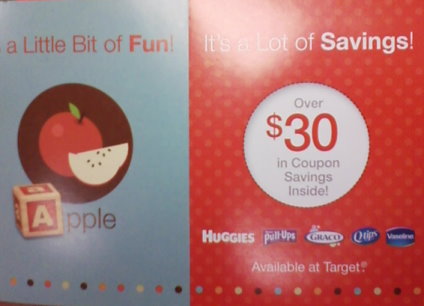 You may be able to find a $30 coupon booklet in a box of Huggies diapers, entitled 'It's a Little Bit of Fun! It's A Lot of Savings'!  They are all Target store coupons and all expire 6/30/10.
Included coupons:
$3 off Huggies OverNights
$1.50 off jumbo pack of Pull-Ups
$0.50 off Huggies Baby Wipes tubs (64- 72 count)
$1 off (184 to 216 count) Huggies wipes
$3 off Huggies gift basket
$1 off Huggies little swimmers (2 coupons in booklet)
$1 off Poise products
$0.75 off Kleenex multipack
$3 off two purchases of Huggies wipes (184 count to 216 count)
$2 off jumbo pack of Huggies Little Movers or Snugglers (3 coupons in booklet)
$3 off Huggies Pure and Natural mega pack (2 coupons in booklet)
$1 off Vaseline 13oz baby petroleum jelly
$1 off 285 count Q tips
$5 off Graco my ride 65
Thanks, Totally Target!