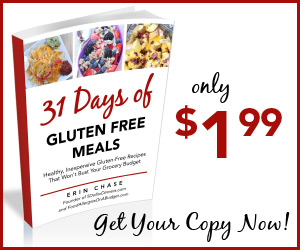 My good friend, Erin Chase (from $5 Dinners), has released a new E-Cookbook for those of you who like or have to eat gluten free!
Eating gluten-free can be difficult when you're on a budget, but Erin's new E-Cookbook will help! Erin is on a mission to help people eat gluten free without spending a fortune to do so.
By purchasing Erin's new 31 Days of Gluten Free Meals E-Cookbook for just $1.99, you'll get…
all of Erin's wisdom on eating gluten-free on a budget
39 drool-worthy recipes
tips and advice for eating gluten free on-the-go, as well as encouragement for dealing with 'difficult' family members or friends who don't understand you're diet restrictions
A few freebies: a plan for a month's worth of gluten-free meals, along with other free meal planning printables.
What are you waiting for?! Purchase your copy now and get cooking! 🙂
Purchase 31 Days of Gluten Free Meals E-Cookbook