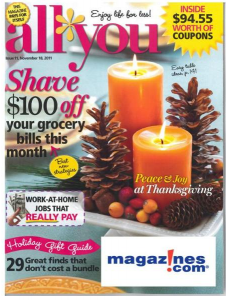 Do you have a subscription to All You magazine? If not, today is the day to grab one! Ebates is offering 40% cash back on Magazines.com purchases on June 20th only, and All You magazine is included!
To grab this deal, start your shopping through Ebates first. Once you're at Magazines.com, type All You into the search bar. Here's the breakdown of the deal you can grab:
Two Year All You Subscription, $39.84
Get $15.94 cash back
Final cost: $23.90 for two years ($0.99/issue)
If you're a new Ebates member, you'll receive a $5 credit when you purchase the two year subscription, or a $10 gift card to the retailer of your choice. That makes the deal even better!