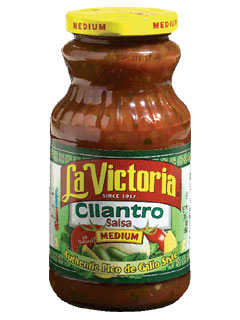 Remember the high value $4/2 La Victoria Salsa coupon I posted about previously? I have good news! You should be able to print another set of (2) $4/2 coupons!
Here's a recap of what I posted:
If you like La Victoria Salsa, you'll definitely want to register on La Vic Rewards! This is where you enter your La Vic Rewards codes and earn coupons for FREE products. The best part about this program is that you'll gain more points with each code you enter. One you get 64 points, you'll get a coupon for $4 off 2 La Victoria Salsas (you'll be able to print the coupon twice), which means that you'll possibly be able to get 4 FREE or very inexpensive jars of salsa!
Tips for entering codes:
You can enter each code up to 4 times.
Enter these codes in the 2nd box that's specially designated for 18-digit codes.
After you enter the codes, from the drop down menu choose 'No Purchase.'
Enter the following codes:
L8CP225J509:08U8XN
L8CS298T819:03VQOZ
L8DA271N613:36DESW
L8PD276K610:07FN1A
L8DA2710614:36B4OK
L8DA271N613:36DESW
L9CO085J509:31ZLKQ
L8CP316J509:09YGCQ
L9CW043K610:334BUY
L8PD071W622:45JRNQ
L8CU238L411:40SXFB
L8CT2390414:30XX1L
L8PD2761608:1443UH
L8CW276B601:13Y9TF
You will only be able to print 2 sets of $4/2 coupons per account per day, so don't try and waste your points on an additional set of coupons!