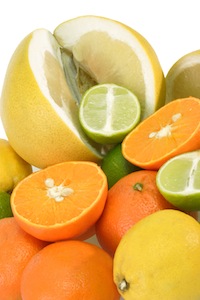 Many people say they can't afford to eat healthy; but while groceries can be expensive, health care costs are even worse. The average American spends nearly $7,500 a year on health care alone, and most of those costs come from preventable illnesses like cardiovascular disease and diabetes. Fortunately, there are ways to improve your diet without breaking the bank—here are a few of the easiest.
1. Make a meal plan
Often, unhealthy eating starts when there's "nothing to eat" in the house—so you graze on snack food instead of preparing something more nutritious. To combat this urge, make a meal plan including healthy meals that you can eat over the course of several days; that way, there will always be something tasty and healthy that you can reheat or eat cold.
2. Stick to your list
The most unhealthy foods we eat—fatty snacks, soft drinks, and fast food—tend to be impulse buys, and they're also much more expensive than healthier options. It's tough to resist a bag of chips when you don't feel like preparing a real meal and they're waiting for you in the pantry; but if you simply don't have those foods in your house, it's much easier to eat healthy.
Before you head for the store, make a comprehensive shopping list of all the items your family will need for your meal plan, as well as a few healthy stand-alone snacks. Plan this out carefully, so that there will be less temptation to add things once you arrive at the store.
3. Cut down on meat
I have hard news for some of you carnivores out there; the old meat-and-potatoes diet is getting more expensive, and it's not good for your body. Beans, lentils, and nuts can provide just as much protein, iron and other nutrients as a pound of ground beef, at a fraction of the cost. You don't have to go vegetarian if you don't want to—just tempering your meat consumption can save you a lot of money, and seriously improve your health.
If you do decide to switch to a vegetarian diet, be sure to find good protein-rich meat substitutes—a diet without sufficient protein and vitamins can be harmful too. In our house, we have small meat portions with plenty of lentils and beans.
4. Shop wholesale
Especially if you have a large family, you can stretch your food dollar by getting a membership at Costco or another "club" retailer. While a club membership does allow you to buy a 50-gallon drum of cheese puffs if you want, they also make dry goods and fresh produce much cheaper. When your food budget goes farther, you can prioritize healthier foods that might otherwise be too expensive.
Also, when you're preparing your shopping list, check online for any dry goods that might be cheaper from a wholesaler—you'll be surprised at how much markup grocery stores get away with, because shoppers aren't accustomed to buying food online. Even paying your own shipping costs, it's usually worth a look.
5. Buy produce in season
This is an oft-overlooked idea, but it makes fruits and vegetables much more attainable for budget-conscious families. Produce is much less expensive in-season, because it isn't being shipped from half a world away; it also tends to be fresher, cleaner, and free of preservatives. If you're not sure how to prepare the fruits and veggies that are in season, there are abundant cookbooks and recipe apps available online to help you find new options. It will keep your cooking repertoire from getting boring, and will also cut down your grocery bill.
Mike Freiberg is a staff writer for HomeDaddys, a resource for stay-at-home dads, work-at-home dads, and everything in between. He's a handyman, an amateur astronomer, and a tech junkie, who loves being home with his two kids. He lives in Austin.