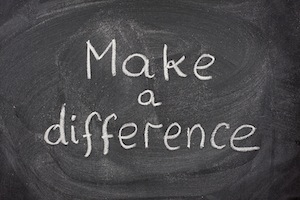 We all want to do good and help others, but when money and time are in short supply, one's potential to make a difference can seem pretty limited. If your family is pinching pennies and your free time is limited, take a look at these simple, inexpensive ideas to make the world a better place.
1. Donate Computer Time
Your computer likely spends a lot of time idle; what if it could spend that time helping cure cancer, search for new planets, or create better economic and climate models? Universities, hospitals, and research institutes all over the world need immense computer power to solve problems, and instead of buying a multi-million dollar supercomputer to perform those calculations, many of them invite people to donate idle computer time.
In this system, thousands and thousands or ordinary home computers work together to find answers to the most complex challenges the world faces. It costs nothing, doesn't interfere with your ability to use your computer, and can be a big help to researchers.
2. Microlend
A dollar may not buy much where you live, but in parts of the developing world, as little as $25 can be enough for an entrepreneur to start a small business. Organizations like Grameen, Kiva, and other micro-financiers offer loans to help people start simple, profitable small businesses making bricks, raising livestock, or crafting jewelry.
You get a profile of the individual entrepreneurs you support, and the money you invest is paid back over the course of 18 months. Make sure to do your research beforehand to ensure that your donation goes entirely to the people who need it; but this is a great, inexpensive way to help others help themselves.
3. Donate Clothing and Toys
Thrift shops, despite their newfound hipster cred, are primarily intended to help the poor. Because their inventory is donated, they have very low overhead costs and can afford to keep prices within reach of struggling families. Many regional thrift stores such as Deseret Industries also employ people who have a difficult time finding other jobs, such as ex-convicts or those with developmental disabilities.
Go through your children's old toys and clothes they've outgrown, clean them up, and pass them along so that less-fortunate families can enjoy them. As always, you should do a bit of Googling beforehand to find a non-profit thrift store that will offer your donations at a reasonable price.
4. Hold a Fundraiser of Your Own
You may not be able to make a great difference with your own limited means, but you can marshal your friends and family for a worthy cause. If you've got a knack for bringing people together, consider throwing a fundraiser party. Find a cause you believe in, and market it—print out invites, stickers for fundraising, maybe even a "menu" with different donation options. Even if you only bring together ten people to donate $25 each, that's $250 you've earned for the cause of your choice. You may feel like you can't accomplish much on your own, but a united community or family can be a powerful thing.
5. Get to Know Your Community
One of the reasons it's so hard to feel like you're making a difference is that the challenges you hear about on the news always seem so far away; but the truth is, there are always needs to be met closer to home. If you know your neighbors' needs, you'll find that you can make a hands-on difference in your community, without worrying about how much of your contribution is going to a middle man. Read to kids at a local school, stack boxes at a food bank, or visit people at an old folks' home. We don't always hear about those needs on the news, but they're real, and you can make a difference without spending a dime.
Mike Freiberg is a staff writer for HomeDaddys, a resource for stay-at-home dads, work-at-home dads, and everything in between. He's a handyman, an amateur astronomer, and a tech junkie, who loves being home with his two kids. He lives in Austin.