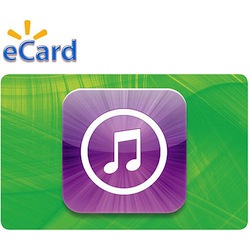 If you own any Apple products, chances are you shop on iTunes for songs, movies, TV shows, apps, and more quite a bit. Here's a nice way to save on these purchases!
Currently, Walmart.com is offering a $50 iTunes eGift Card for just $40. This is a savings of 20%. The gift card code will be delivered within 60 minutes directly to your email inbox. You can then enter the code in iTunes to apply it to your account.
It's basically like getting $10 worth of apps, songs, movies, TV shows, and more for free! Grab this deal soon, as I am not sure how long it will be available.
Buy iTunes eGift Card
See more Walmart coupon codes in the online coupon codes database.