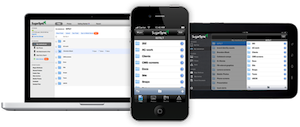 Are you backing up your important files regularly? I know I'm not backing up as often as I should be. But for my documents and most important files, I'm using SugarSync.
Right now at SugarSync, you can get 5GB of FREE online backup storage! You'll also be able to access your files from your smartphone or tablet device. You can pick and choose which files you want backed up too!
You can also complete up to 6 tasks, and when you complete each task, they'll give you another 125MB of FREE storage! Even better, when your friends sign up for SugarSync, you can get 500MB of FREE storage for each person you refer with your link.