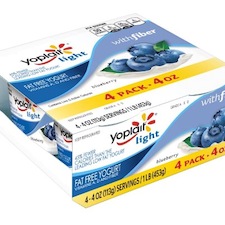 Head over to Coupons.com, where you can print a total of 6 new Yoplait coupons today! If you think you'll use these, I'd suggest printing them now, as these usually run out quickly.
$0.50 off Yoplait Light with Fiber Yogurt
$0.75 off Yoplait Light yogurt with Granola
$0.75 off two Yoplait kid products
$0.50 off two Yoplait Greek yogurts
$0.40 off six Yoplait Yogurts
$0.75 off one Yoplait Frozen Smoothie
Check the Coupon Database for more coupons!