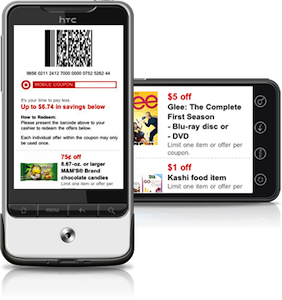 I received 7 new Target mobile coupons, valid through 4/19/13. Remember, these are Target store coupons, so you can stack them with manufacturer's coupons for additional savings.
$5 off Women's Swimsuit Purchase ($25 or more)
$5 off Women's Denim Purchase ($25 or more)
$1/1 Archer Farms Dry Cereal ESS
$5/1 The Bible on Blu-Ray or DVD
$4/40 Digital Prints 4×6 inch
$2/1 Viva Paper Towels 8-pk+
$1/1 ACT Mouthwash 16.9-oz+
If you didn't get your text message yet, text OFFERS to 827438. If you aren't signed up to receive Target mobile coupons, go here to register. You'll need to have an Internet capable phone to retrieve the coupons. Standard text messaging and data rates apply.