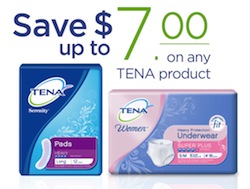 Right now, you can request a very high value $7/1 Tena product coupon! Just enter your email address and you'll get it via email. Note that it says up to $7, so your store will probably not allow you to get overage. It still means a FREE product!
If you do get overage, it will look like this:
Tena Pads, $2.86-$5.24
$7/1 Tena Product
Final cost: FREE + up to $4.16 in overage!
Thanks I Heart the Mart- How to Price Match and Coupon at Walmart!