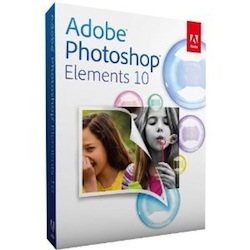 Currently, Amazon.com is offering Adobe Photoshop Elements 10 for only $49.99! Choose to have the DVD mailed to you, or you can download it to your computer instantly. This is a savings of $50, so get yours today!
I just received this for my birthday and have been using it for just over a week. It's a great image editor, and I think it's very easy to use. However, I don't know all the ins and outs of Photoshop Elements yet. 🙂
Features:
Make every photo look its best with powerful options that take the work out of image editing
Create photo books, cards, calendars, and other printed mementos that look just the way you want
Quickly share your photos anywhere, including on Facebook and YouTube and in fun, interactive Online Albums
Enjoy your photos and videos virtually anywhere you are, and get automatic online backup with 2GB of free storage
Adobe Photoshop Elements 10 software lets you turn everyday memories into sensational photos with a complete photo-editing solution
Thanks The Coupon Challenge!