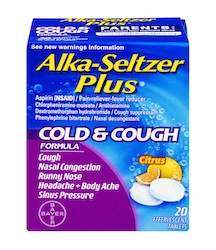 Coupons.com released a couple of new Alka-Seltzer printable coupons this morning! I'd print these now and hold on to them for a deal at the drugstores. There are usually lots of sales on cold and flu products in the fall.
Alka-Seltzer Printable Coupons
$3 off Alka-Seltzer Antacid AND Plus Cold
$1 off Alka-Seltzer Antacid OR Plus Cold
Check the Coupon Database for more coupons!