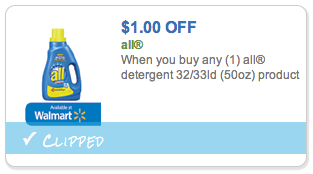 $1/1 All Detergent Coupon
Coupons.com has released a new $1/1 All Detergent coupon! If the coupon doesn't come up as pre-clipped, enter zip code 03103 and then refresh the page. This coupon is valid on the 50 oz bottles.
Print this coupon now and hold onto it for the week of 8/25. CVS will have All laundry detergent on sale for $3.99 and you'll get a $1 ECB when you buy one. Use the coupon to pay just $1.99 for a bottle!
All Laundry Detergent, 28 – 33 loads – $3.99 (starting 8/25)
$1/1 All Detergent coupon
Pay $2.99
Get back a $1 ECB (Limit 1)
Final Price: $1.99

Coupons powered by Coupons.com