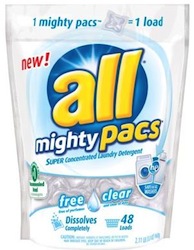 There is a new laundry detergent coupon available on Coupons.com right now! Head over and print this $1/1 All Mighty Pacs coupon and hold on to it. You can get a nice deal on this product at Target starting on Sunday, 10/14.
There will be a new $5 Target gift card offer when you buy three select laundry detergents. These will be included in the gift card promotion, and there's a Target coupon to stack, making for a great deal on these convenient pacs.
Buy 3 All Free Clear Mighty Pacs, $8.99 each
(3) $1/1 All Mighty Pacs printable
$1/1 All Free Clear Laundry Detergent Target printable
$5.99 ea. web 3 after coupons and gift card!
If your Target allows more than one store coupon, use a total of three Target store coupons. You'll get these for just $5.33 each after coupons and gift card!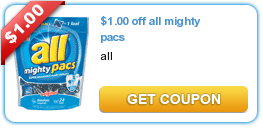 Thanks Totally Target!