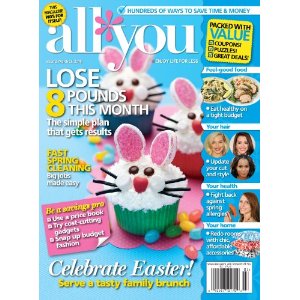 Here are all of the new All You coupons that are in the April issue. As you can see, the value of the coupons far outweighs the cost of the subscription! See the two deal scenarios at the bottom if you still aren't convinced.
$0.50 on any Colgate Wisp 4 count product
$1 on any one Marzetti Dressing
$1 on any N.Y.C. New York Color product of $1.72 or more
$1 on any Sea Breeze Product
$1 on any BRUT Fragrance
$0.55 on any BRUT antiperspirant or deodorant
Get Rimmel Sexy Curves Mascara FREE (max. value 6.47) – coupon states only at Walmart but is a manufacturer's coupon
$0.50 on any White Cloud Bathroom Tissue Product
$2 on any Jane, Jane Be pure Mineral or AquaCeuticals full size product
$1 on any Colgate Total Advanced (4 oz or larger)
$1 on any one Excedrin PM product 100 count or larger
$3 on any two Splenda Sweetener Products
$0.75 on any one bag 20 count or larger of Halls
$1 off one 6 oz Bag of Stacy's Pita Chips excludes all other sizes
$1 off one 10 oz Bag of Stacy's Pita Chips exc. all other sizes
$2 When you Buy Faith Like Potatoes(dvd)
$5 off Dentek Custom Comfort Nightguard
$1 off Dentek Floss Pick $2 or more
$1 off People magazine
$0.50 your next issue of All You
$3 any 1 TUMS Dual Action Product 25 count or larger
$1 any one STOUFFER'S Family or Party size Meal 28-96 oz
$0.50 on one package of a Taste of Thai Quick Meal
$1 on any 1 can of Underwood (canned meat spreads)
$2 on any Spectracide Triazicide Insect Killer
$0.40 on any Palmolive Pure+Clear liquid dish soap (20 oz)
$0.25 on any Palmolive Dish Liquid
$1 on any GE Energy Smart Energy Star fluorescent lighting product
$1 off 1 SunChips
Buy any Glade Scented Oil Candles Tin Holder, get a Scented Oil Candles refill pack
$0.55 on any Spot Shot Instant Carpet Stain & Odor Eliminator Product
$2 on Noxzema SpaShave 4-Blade Shavers
$0.50 on a package of 6 White Castle Microwaveable Hamburgers or Cheesburgers
There is also a try me FREE rebate on Banquet Family Size Meals on page 156 (up to $3.98 value).
You can order All You here:
All You (6 months)
All You (1 year)
All You (2 year)
This would be a great thing to spend your Swagbucks on if you redeemed for Amazon.com gift cards!
Thanks, Mojo Savings!