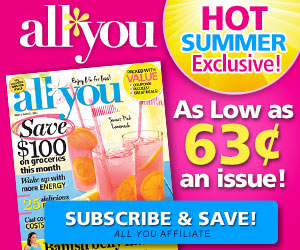 Here's an awesome deal on All You Magazine that you won't want to pass up! Through 7/31, you can get a two year subscription to All You Magazine for just $15! That's less than $0.63 per issue. Just one issue sells for around $2.50 at Walmart.
All You Magazine includes many coupons every month. The amount of savings you'll receive from the coupons will more than pay for the subscription!
This is the best price you'll see on All You all summer, so start your subscription today!
Subscribe to All You Magazine