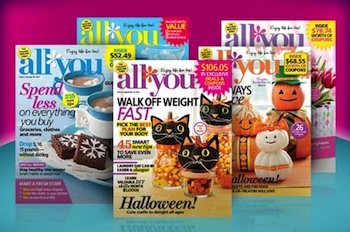 Eversave has an awesome deal on my favorite magazine with coupons inside! You can get a 2 year subscription to All You magazine for $24.
That makes each issue just $1, which is my target price for this magazine. It will easily pay for itself with the coupons you get every month!
This deal is very popular so make sure to grab it now if you're interested.
May buy up to 5 Saves. Valid for new subscriptions, renewals and gifts; May be used to renew an existing subscription as long as same address is used for renewal. Free shipping; please allow 4-10 weeks for delivery of first issue.