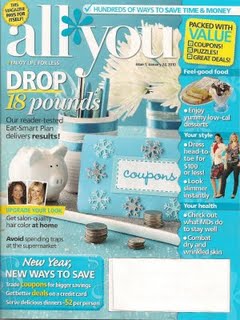 Do you have a subscription to All You magazine yet? If you don't, you are definitely missing out! If you're a newbie couponer or if you're just look for additional ways to build up your coupon stash, then you'll definitely want to subscribe to All You magazine. This magazine can be found exclusively at Walmart or by subscription only. All You is filled with money saving tips, recipes, and my favorite part: lots of great coupons…some of the coupons are even high value than the ones you'll find online or in the newspaper.
Right now, ShopatHome.com is offering up 30% cash back on Magazines.com purchases. Plus, Magazines.com has a 1 year subscription to All You magazine priced at $19.97. After the 30% cash back, only $13.97! That makes each issues just $1.16 and I promise, this magazine will pay for itself just by using the coupons in the first issue you receive. If you are a new member to shopAtHome.com or have signed up (but haven't purchased anything yet), then you'll earn a $5 sign up bonus after making your first purchase! That will bring the cost of the magazine down to just $8.97.
Are you interested?
Click here and create a ShopAtHome account or login to your existing account.
Type "Magazines.com" in the search box.
Click on one of the Magazines.com links and you will be redirected to their site.
Type "All You" in the search box and the $19.97 subscription will pop up.
Add the item to your cart and checkout.
A few days after doing this (maybe sooner), check your ShopAtHome.com account. You should see a $5 sign up bonus (if you're new) and a 30% cash back credit.
Thanks, It's Hip to Save!!