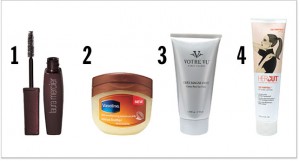 Allure magazine is giving away FREE stuff all week long! Monday through Thursday is for the first 500 each day, and Friday is for 19 of their products valued at $628. These freebies start at 12 noon EST each day.
This Week's Freebies
July 5: FREE Laura Mercier Full Blown Volume Mascara
July 6: FREE Vaseline Rich Conditioning Petroleum Jelly Cocoa Butter
July 7: FREE Votre Vu Very Magnificent Crème for the Feet
July 8: FREE HerCut The Ponytail Styling Lotion
July 9: FREE Fekka Favorites
Interested in trying to get these? Just go here every day at noon EST and register for your chance to win.
Thanks, Mojo Savings!