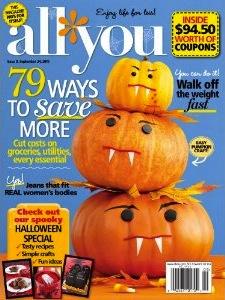 For those of you that want to subscribe to All You magazine, here's a great deal for you!
This magazine tends to have a lot of great coupons, so it's very popular. The only way to get the magazine is via subscription or by going to Walmart stores and buying it off the shelf.
I subscribe to this magazine and typically it's about $19 for a year, but Amazon is running a sale where you can get a year for only $14.95!
To get this deal…
Head over to Amazon and check out All You on auto-renewal for $14.95. You can also extend your current subscription.
Pay for your subscription.
You'll be enrolled in auto-renewal, which is just like Subscribe and Save. They'll automatically renew your subscription, which you don't want them to do. Wait a day or so for your order to process and then head over to the Amazon subscription manager and cancel auto renewal. If you forget to do this, Amazon will send at least one reminder email to you prior to renewing your subscription.
Allow 2-3 months for delivery of your first issue.
Thanks, My Frugal Adventures!