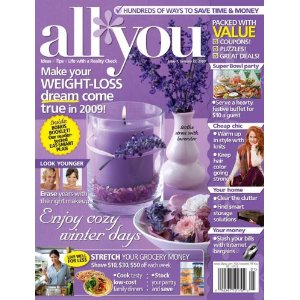 If Amazon is limiting the quantity to one All You 6 month subscription, you might want to buy a 2 year subscription of All You magazine for $34. After the promo, your final cost will be $24 for 2 years, or $12 per year.
Amazon is offering up a great magazine promo for the month of February: Spend at least $20 in the Amazon.com Magazine Store and you'll get a unique $10 promotion code via email within 10 days of the qualifying purchase! This can be applied towards anything offered by Amazon.com, excluding Kindle subscriptions, Prime subscriptions, used items, or products sold by third parties. For more details, go here.
One deal you could score is on All You magazine. The 6 month subscription to All You magazine is currently priced at $10 + FREE shipping. Buy 2 6 month subscriptions for $20, and after you take into account the $10 promo code, you'll be paying only $10 for one year!
Thanks, Hip2Save!