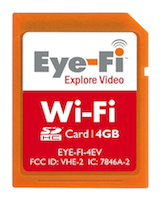 Wow! This is an awesome deal on one amazing product. Right now, Amazon is offering the 4GB Eye Fi Explore Video memory card for just $22.49, down from $99.99! This memory card wirelessly downloads your pictures when you get back home, so you don't have to take out the memory card or hook the camera up to your computer!
I've had one of these memory cards for over a year now, and I have to say it's seriously the best camera accessory I ever purchased. I used to wait months to download the pictures to my computer, but now I don't have to do anything! The pictures automatically start downloading when I get home and my computer is on (which is always)!
Thanks, Common Sense With Money!