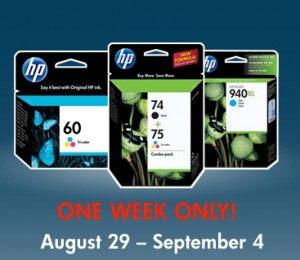 Yay! Amazon is having a sale on HP ink through September 4th: Buy $40 in ink and get $10 off or buy $80 in ink and get $20 off. As you know, ink deals are very rare, so now is the time to buy a few extra cartridges!
This is for ink sold by Amazon only, not 3rd party vendors! Go here to see all items included in the sale. You should be able to scroll down on the ink you select and see a 'Special Offers and Promotions' reference right in the center of the page that discusses this promotion.
Target also has a deal on HP ink this week…buy 2 single packs at $23.49 and get back a $10 Target gift card. That's like getting each pack for $18.49!
Thanks, My Frugal Adventures!